Screen Saver with Signature Protection
Scrawl SigVerify v1.18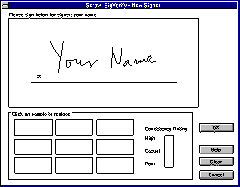 Copyright © Salman Burkie, 1995-1998. All Rights Reserved.
---
System Requirements
Windows 3.x, Windows 95, Windows NT or Windows for Pen.
Pen or tablet highly recommended.
Features
A screen saver that requires a signature instead of a password for authentication.
Uses dynamic signature verification to authenticate users.
Uses both the shape and pacing of signatures for verification.
The availability of a hard-copy of the signature to the forger does not automatically compromise security.
---
NOTE: SigVerify is currently unavailable for public download.
Please contact info@scrawl.com to obtain an evaluation copy.
Download
sv1-18.zip (120 KB)
Scrawl SigVerify v1.18 in compressed format - requires pkunzip.exe to uncompress.
readme.txt (1 KB)
Instructions on how to uncompress sv1-18.zip using pkunzip.exe.
pkunzip.exe (15 KB)
A shareware uncompressing utility - download this if you don't already have it.
Or, to get a preview, just browse through the on-line manual.
---
Last modified: Sunday, 29-Jan-2012 09:47:28 MST
Accesses: 05298 hits since January 29, 2012

Please send suggestions, comments and any questions via e-mail to info@scrawl.com.