Word-processor for Handwriting
Scrawl Editor v1.0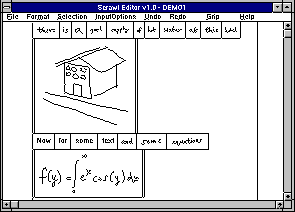 Copyright © Salman Burkie, 1995-1998. All Rights Reserved.
---
System Requirements
Windows 3.x, Windows 95, Windows NT or Windows for Pen
Pen or tablet recommended but not required.
Features
Notes can be exchanged via e-mail, or over the Web.

Files are text-only.
Notes can be pasted directly into e-mail.
E-mail can be pasted directly into Scrawl Editor to extract notes.
Scrawl Editor can be configured as a handwriting viewer with your web browser.

Can be used to take notes in ideogram-based languages.
Installation does not change your system configuration (clean uninstall).
Available for free downloading.
---
Download
sced1.zip (120 KB)
Includes complete installation instructions and manual in the form of a windows help file.
Requires pkunzip.exe to uncompress.
readme.txt (9 KB)
Instructions on how to uncompress sced1.zip using pkunzip.exe and installation instructions.
A copy of this file is included in sced1.zip.
pkunzip.exe (22 KB)
A shareware uncompressing utility - download this if you don't already have it. Required for uncompressing sced1.zip.
Or, to get a preview, just browse through the on-line manual
---
Sample Data Files
If Scrawl Editor has been setup correctly as a helper app./viewer with your Web browser, you should be able to see handwriting data in a separate window when you click on these *.swl files.
NOTE: Close the Scrawl Editor window before opening another *.swl file - otherwise your browser will complain that it cannot run a second copy of Scrawl Editor.

Click here for instructions on how to setup Scrawl Editor as a helper app./viewer with your browser.
---
Last modified: Sunday, 29-Jan-2012 09:47:22 MST
Accesses: 05314 hits since January 29, 2012

Reload this Page
Please send suggestions, comments and questions via e-mail to info@scrawl.com.